Wearing make-up to feel more confident and attractive is common practice for Western women. And although they live in a world far removed from urban life, it's the same for women of the Karo tribe in Ethiopia.
Using white chalk and red ochre, the women create intricate circle, spiral and cross-hatched designs in order to look more beautiful and stand out of the crowd.
What's more, it's not just the women who use this technique in a bid to be more visually appealing to the opposite sex. The men also paint their faces and bodies to make themselves more attractive.
Photography: Vicente Pamparo, Jimmy Nelson, Hans Silvester, Magda Rakita, Ingetje Tadros
According to Pamparo, 'The Karo is a highly aesthetic group of people. Their styles are often symbolic of important festivities or as a means of attracting the opposite sex.
'Their hair is usually mixed with red ochre and cut in a bowl-like fashion. Walking around the tribe area, you can't help but notice women lathering goat hide with animal fat to add to their wardrobe.'
But the tribesmen don't just decorate themselves with white markings to attract women. They also do it for a number of other reasons, including to look more intimating to those from rival tribes in the region and as a means of enhancing their status.
Ways of life
The Lower Omo Valley is a spectacularly beautiful area with diverse ecosystems including grasslands, volcanic outcrops, and one of the few remaining 'pristine' riverine forests in semi-arid Africa which supports a wide variety of wildlife.
The Bodi (Me'en), Daasanach, Kara (or Karo), Kwegu (or Muguji), Mursi and Nyangatom live along the Omo and depend on it for their livelihood, having developed complex socio-economic and ecological practices intricately adapted to the harsh and often unpredictable conditions of the region's semi-arid climate.
The annual flooding of the Omo River feeds the rich biodiversity of the region and guarantees the food security of the tribes especially as rainfall is low and erratic.
They depend on it to practice 'flood retreat cultivation' using the rich silt left along the river banks by the slowly receding waters.
They also practice rainfed, shifting cultivation growing sorghum, maize and beans on the flood plains. Some tribes, particularly the Kwegu, hunt game and fish.
Cattle, goats and sheep are vital to most tribes' livelihood producing blood, milk, meat and hides. Cattle are highly valued and used in payment for bride wealth.
They are an important defense against starvation when rains and crops fail. In certain seasons families travel to temporary camps to provide new grazing for herds, surviving on milk and blood from their cattle. The Bodi sing poems to favorite cattle.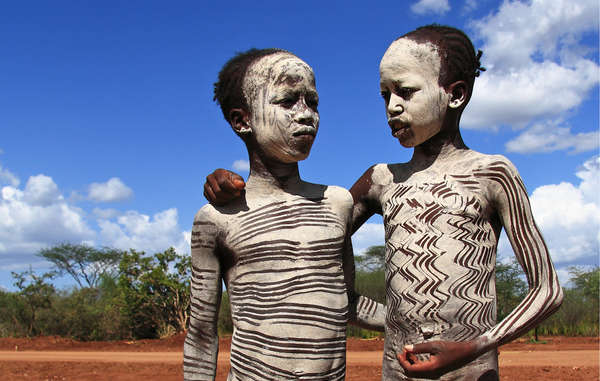 Other peoples, such as the Hamar, Chai, or Suri and Turkana, live further from the river but a network of inter-ethnic alliances means that they too can access the flood plains, especially in times of scarcity.